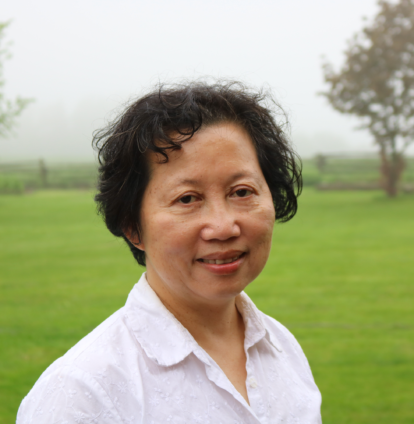 Yoke Kennedy,
MSW, RSW
Personal Statement:
Life is full of challenges. We don't always have a choice what challenges we face, but we can choose how we view or overcome these challenges. I believe that we each have our own reserve of resilience waiting to be tapped into. Most of the time we have the strength to face these challenges. Sometimes we reach out to our friends and family for support and that is all we need. At other times, these challenges can overwhelm us and our system of support. We feel alone and helpless.
I have been in the helping profession for over 20 years, working extensively with Canadians, newcomers, interracial couples, international students and foreign workers. Over the years I have worked in the penal system, as wall as the Child Welfare and Violence Against Women sectors. I may use a specific modality like cognitive behavioural therapy and brief solution-focused therapy or an eclectic style of counselling in order to create the ideal treatment program to meet your specific needs and personality. My approach is culturally responsive, client-centred and strength based.
When you are ready for positive change, let me support you in embracing your challenges and turn them into opportunities to learn something new about yourself, others and discover alternative world views and choices.
Certifications, Memberships, Accreditations:
• Registered member of Ontario College of Social Workers and Social Service Workers
• Certificate in Addictions Counselling, Wilfrid Laurier University, 96 hours
• Certificate in Cognitive Behavioral Therapy, Wilfrid Laurier University, 72 hours
• Advanced Social Work Practice with Older Adults, Ontario Association of Social Worker
• Gottman Method Couples Therapy - Level Two
• Death, Dying and Bereavement Certificate, 90 hours
• EMDR trained
• Certificate in Treating Trauma from Sexual Betrayal
Areas of Special Interest:
Anxiety, depression, stress, phobias, OCD, bipolar, crisis intervention, self-harm, suicidal ideation, intimate partner violence, trauma/PTSD, separation, divorce, internet overuse, gambling/gaming addictions, substance abuse, bereavement, cultural adaptation, migration issues, couple relationship, life transitions, sexual/elder/child abuse, positive psychology, mindfulness, impact of racism
Education
• Bachelor of Arts, McMaster University, Hamilton, Ontario
• Master of Social Work, Wilfrid Laurier University, Waterloo, Ontario
Language other than English:
• Cantonese
• Mandarin