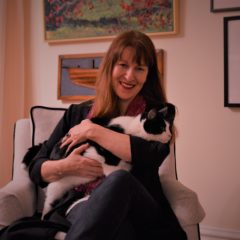 Marilyn Clarke,
BA, DTATI (Cand.)
Personal Statement:
I seek to facilitate emotional healing and well being based on humanistic principals of compassion, empathy and unconditional positive regard.
Through the use of art materials in an inclusive, welcoming and safe environment, I hope to provide opportunity for insights into the reasons for emotional distress and uncover many underlying dimensions of our personal stories. Using a narrative therapy approach, I will promote creative exploration that supports new and hopeful perspectives that open the door to the authentic self. In art therapy the emphasis is not on the product but on the creative process.
I have spent the past two decades working with women who have experienced intimate partner violence. I have witnessed the profound impact the creative process can have on emotional well-being. I believe passionately that healing and positive change are possible when principles of compassion and inclusivity remain unconditionally present.
Areas of Special Interest:
Children, adolescents and adults in areas of anxiety, depression, self-harm, trauma, gender-based violence, intimate partner violence, witnessing violence, Post-Traumatic Stress (PTS) symptoms, relationship conflict, gender related and identity matters, grief and loss (with support for survivors of suicide loss, as an area of focus)
Education
• Toronto Art Therapy Institute, Graduate Diploma in Art Therapy (DTATI, candidate)
• University of Guelph, BA