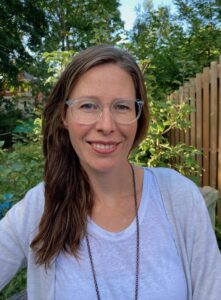 Laila Brand,
RP - Qualifying
Not currently accepting new clients
Personal Statement:
There are seasons of life in which we benefit deeply from telling our own stories in a safe and supportive environment. We are not meant to live life alone, yet sometimes it is hard to find places where we feel truly seen, and truly heard.
I believe each of us has the capacity for incredible resilience and healing, and I am committed to holding a supportive space as you face the current challenges in your life. I draw on a number of therapeutic approaches, including CBT, emotionally-focussed, mindfulness, somatic awareness and narrative modalities, and am sensitive and attentive to discovering together the approaches that most resonate for you. My ultimate aim is to listen attentively, and to provide a gentle space of support and challenge as you work toward your goals in therapy.
Areas of Special Interest:
Young adults, depression, anxiety, spiritual care, exploring questions of identity, couples, parenting, family dynamics and inter-cultural relationships
Education
• Wilfrid Laurier University, Master of Arts: Spiritual Care and Psychotherapy (cand.)
• University of Waterloo, Bachelor of Arts - Philosophy Major, Peace and Conflict Studies Option