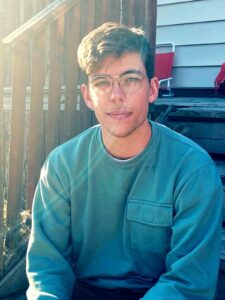 Christopher Mertz
MA (cand)
Personal Statement:
Life is full of different seasons. Some are easier while others challenge us and can make us feel overwhelmed. No matter what season of life you are in, you are never alone, and you always have what it takes to keep moving forward.
I would like to help you connect to the people and things that give meaning to your life. If you feel ready to take the next step, I encourage you to reach out and explore how therapy can work for you.

Areas of Special Interest:
I am an accredited music therapist (MTA, registered with CAMT and MTAO) with experience working in a variety of areas including palliative care, long-term care, addictions, and disability.
I embrace a client-centered approach to help you find what works best for you. I use a number of approaches including CBT, DBT, and narrative therapy.

Education
• Wilfrid Laurier University, MASPC (Candidate)
• BA Honours of Music Therapy with distinction, minor in Psychology (WLU)