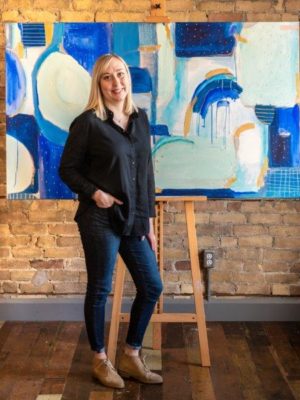 Arielle Bush,
Art Therapist, DTATI
Professional member of the Canadian Art Therapy Association (CATA)
Personal Statement:
Sometimes saying something out-loud or finding the right words can be difficult and overwhelming. Art can breakdown barriers and creates an inviting and accessible way to communicate thoughts, feelings and experiences. To me providing individual-based care that adapts to you is what art therapy represents. Using creativity as a means to offer you a comfortable form of communication is, I believe, a great way to promote well being, growth and healing. I am passionate about the benefits of art therapy as a positive therapeutic intervention and look forward to working with you and/or your family member(s).
Areas of Special Interest:
My work has specialized in helping individuals foster emotional wellness through art based interventions that help develop emotional intelligence and self-regulation skills.
Additional areas of focus include: Anxiety, Depression, Emotional wellness, Self-regulation, Resilience building, Fostering healthy interpersonal boundaries and relationships, Trauma history, Self-esteem and identity, Personal growth, Stress management, Acquired brain injury, Autism (self-expression, self-regulation, emotional literacy).
I can provide therapy in both French and English.
Education
• Toronto Art Therapy Institute, Graduate Diploma in Art Therapy (DTATI)
• OCAD University, Bachelor of Fine Arts