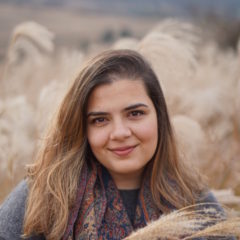 Andréa Areguy,
MSW (cand.)
Pronouns: she/her
Personal Statement:
There are many forces in our lives that are beyond our control and each day we enter into the push and pull of these forces. For many people, oppressive systems intersect and overlap to impact people based on their race, culture, gender, sexuality, class and/or body size. These systems can be difficult to pinpoint and can lead to depression, anxiety, trauma and isolation. It is my understanding of these systemic realities and training in divers therapeutic schools of thought that underpins my client-centered approach to therapy. My hope is to create a brave space where folks can dive deeper into their experiences, find paths to a holistic sense of well being and harness the incredible resilience we have as human beings.
Areas of Special Interest:
Special interest in matters relating to anxiety, depression, identity, self esteem, body image from a body positive perspective, spiritual/religious transition, migration and multicultural conflict and life transition.
Education
• Wilfrid Laurier University, Master of Social Work (Cand)
• University of Waterloo, Honours BA - Social Development Studies (major) and Psychology (minor). Individual Well-being and Development Specialization
• Certificate in Acceptance and Commitment Therapy